Anderson Silva shocks Julio Cesar Chavez Jr., Chavez Sr. wraps career with a bang from Tribute to the Kings
Table of Contents Chavez-Camacho Jr.; Round 4Chavez-Camacho Jr.; Round 3Chavez-Camacho Jr.; Round 2Chavez-Camacho Jr.; Round…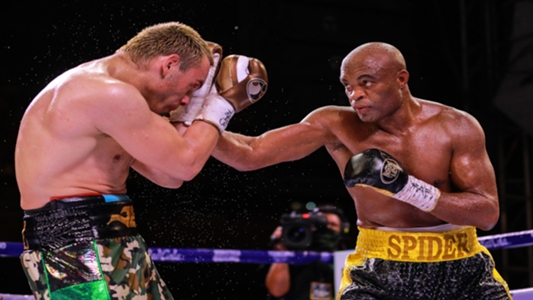 Chavez-Camacho Jr.; Round 4
Chavez is unloading a barrage of body shots. Camacho Jr. comes back with a shot of his own, but Chavez charges forward. They're trading shots in wild exchanges, which once again continue after the bell. Chavez embraces Canelo and they take a photo together. Canelo gives up the utmost respect to the legend. (10-9 Chavez, 40-36 Chavez)
Chavez-Camacho Jr.; Round 3
Both fighters working the body. Chavez working the body with Camacho Jr. pinned against the ropes. This is a slow-moving, but interesting exhibition. Chavez working the body and blasting Camacho Jr. upstairs as well for good measure. Both Chavez and Camacho Jr. connect on shots after the bell and Chavez is livid! He rips off the headgear and Camacho Jr. does the same. Chavez's family is warning him to put back on the headgear and the legend obliges. Now, Camacho Jr. dons the headgear once again. Cameras pan to Canelo, who rips off his jacket and enters the ring! He now joins Chavez's corner. (10-9 Chavez, 30-27 Chavez)
Chavez-Camacho Jr.; Round 2
Hook off the jab by Chavez. Camacho Jr. with a quick flurry, inviting Chavez to bring it on. Chavez with a left hook to the body. Camacho Jr. returns fire. Chavez working his angles, ripping the body some more. Chavez looks to have some thud with his left hook even at this age. The crowd urges Chavez on. He hits Camacho Jr. after the bell, but taps gloves with his opponent to let him know it wasn't intentional. (10-9 Chavez, 20-18 Chavez)
Chavez-Camacho Jr.; Round 1
Chavez comes right out with a left hook across the ring. A staggering 58-years-old with this kind of light bounce in his step is something. Straight left lands for Camacho. Chavez with a right hook. Solid exchange to end the round, with Chavez punctuating the frame with a right hook to the head. (10-9 Chavez)
Seconds away
After a momentous final ring entrance from Chavez, this fight is just about underway. Chavez and Camacho Jr. donning headgear since this is a special exhibition bout.
Main event time
Hector Camacho Jr. making his way into the ring. He'll try to avenge his late dad's September 1992 unanimous decision loss to Julio Cesar Chavez. For the legend Chavez, it's the 58-year-old's final stand in the ring. 
To put Silva's win into perspective
Silva's win is really incredible, considering he entered this fight with just two pro boxing matches under his belt. Meanwhile, this marked Chavez's 60th pro boxing fight. Then, you factor in that Chavez is a former world champion and is 35-years-old to Silva's 46 and this is a sizeable win. Canelo got up on the ring apron and congratulated Silva.
Silva upsets Chavez Jr. by split decision
After eight rounds, judges score it 77-75 for Chavez, 77-75 for Silva and 77-75 for Silva. The MMA legend successfully dictated the pace and landed the cleaner shots. The only controversy should be why this wasn't a unanimous decision nod for Silva. It should have been.
Chavez Jr.-Silva; Round 8
Eighth and final round. Silva is still moving well, dancing around Chavez. As long as he doesn't get caught with something big, he should win this fight on the judges' scorecards. Under two minutes and Silva continues to float, pumping that jab and staying within range to keep landing the punch. Chavez unloads a quick barrage with a minute left, with most of the work coming up empty. Less than a minute left. Chavez trying to sit on his body punches. (10-9 Silva, 77-75 Silva)
Chavez Jr.-Silva; Round 7
Silva cranking up a few uppercuts halfway through this round. Silva continuing to show ring generalship. Quite the feat, considering the Octagon has been his domain for years. (10-9 Silva, 67-66 Silva)
Chavez Jr.-Silva; Round 6
At 46, Silva is moving better and is the aggressor as well. Silva digging in with uppercuts. He has had Chavez pinned on the ropes over several sequences in this fight. Chavez is seemingly comfortable on the ropes, before Silva lures him back to the center of the ring. Chavez is breathing heavy. Silva presses forward and lands a left to the body. He hunts for a right hand, which lands. (10-9 Silva, 57-57)
Chavez Jr.-Silva; Round 5
Silva mixing it up by going upstairs with the jab and then hitting the body. Silva also showing good footwork. Chavez has got to stop complaining to the ref. It has been several times now that he has looked over to the ref. Chavez deposits a right hand to Silva's body, but it's Silva's round. (10-9 Silva, 48-47 Chavez)
Chavez Jr.-Silva; Round 4
Right uppercut lands for Silva and he's moving in and burying a lunging left to the body now for good measure as well. Chavez, for whatever reason, doesn't look comfortable this round. Silva peppering Chavez with a jab and mixing it in on the inside as well. Chavez goes to the liver with a hook, but Silva takes the shot and dishes right back with the jab. Silva catches Chavez with a stinging left to end the round as well. (10-9 Silva, 39-37 Chavez)
Chavez Jr.-Silva; Round 3
Silva continuing to move well, but Chavez catches him and swarms briefly with a flurry of punches. Silva with a left jab, but then mixes in an elbow. Yeah, that has to be muscle memory from his years of MMA. Chavez unleashing hooks to the body to which Silva is begging him for more, inviting more punishment in the corner. Silva comes out the corner, but goes back in the same spot, begging Chavez to hit him some more. (10-9 Chavez, 30-27 Chavez)
Chavez Jr.-Silva; Round 2
Silva is moving well on his feet and laterally with his body movement. But you can see Chavez loading up and waiting to unleash. Silva moving forward with a flurry, but Chavez defends without sustaining any damage. Chavez splits Silva's guard with a right jab. Overhand right lands for Chavez at the end of the round. I'd still give the round to Chavez, though. (10-9 Chavez, 20-18 Chavez)
Chavez Jr.-Silva; Round 1
Silva looking pretty comfortable in trying to establish that four-inch reach advantage with his jab. Lunging left hook from Chavez grazes Silva, who will need to avoid shots like that to win. (10-9 Chavez)
Co-main event time
The co-feature pits 35-year-old Julio Cesar Chavez Jr. against 46-year-old MMA legend Anderson Silva. Chavez Sr. reportedly gave his son and Silva his blessing to take the main event spot, but Silva said there's no way he'd take the closer over Chavez in the boxing legend's final fight. Chavez Jr. tipped the scale 2.4 pounds overweight during Friday's weigh-in. Let's see if that factors in with tonight's fight at all and how much his head is in the game.
Ramon Alvarez skates to unanimous decision over Omar Chavez
Judges didn't have a hard task there. Alvarez dominated the trilogy, leaving Chavez's face a bloody mess — something out of a horror movie. Although it's important to point out that instant replay proved that the gruesome cut was opened up with a headbutt — and NOT a left hook — Alvarez was all over Chavez and was definitely the clear winner. Canelo embraced his brother and yelled his approval afterward. 
Canelo extra vocal in Ramon's corner
Canelo is super involved, barking step-by-step instruction and advice to his brother, as cameras have shown over the last couple of rounds. We're in the seventh of eight rounds, with Alvarez up big.
The cut is a serious one
It looks like Alvarez has run Chavez's face through a grater.